Once your WordPress website is up and running, you need to maintain it regularly to keep it afloat.
This is where updating your WordPress site becomes crucial. Ignoring the update message on your WordPress dashboard can lead to compatibility issues, malfunctions, or even a total site breakdown.
Fixing those problems is difficult, so it's better to take preventive actions beforehand.
Thankfully, there is safely ways to safely update WordPress, which we'll guide you through this article.
Reasons to Update a Site to the Latest WordPress Version
Like any other software, an update will ensure that WordPress users can improve their sites with the new features, upgrades, and bug fixes.
If you don't update your WordPress, the site will perform less efficiently as it is outdated, and visitors will be less likely to explore it. As a result, the website will have lower traffic, which isn't ideal in the long run.
In addition, there are other perks of updating WordPress:
Better security. Previous versions of WordPress are more prone to security vulnerabilities. Implement security updates to prevent hackers from stealing confidential data.
Speed. Installing a new version of WordPress can speed up the site. As a result, it will be more responsive on different browsers and devices, encouraging visitors to stay longer and potentially return in the near future.
Compatibility. The new WordPress release will make your site compatible with plugins and themes. As such, you'll have no problems installing other features to extend your site's functionality.
Functionality. WordPress updates come with implementations of new or improved quality-of-life features. There'll be more options and tools for scaling up your site.
Before Updating WordPress
Before updating to the latest version of WordPress, it's essential to prepare for any possible missteps.
Remember that these updates will impact your site files and their database.
Here's a quick checklist before updating a WordPress site:
Read and understand the update notice. Find out what the latest update carries through the WordPress changelog. It can either be new features or security patches. If you're upgrading from 5.9 versions, you can read about WordPress 6.0 release over here.
Check the support forums. See what others say about the latest version of WordPress and whether it contains errors or bugs. Decide if it's necessary to update now or wait longer. As a rule of thumb, prioritize security updates.
Create a full WordPress backup. Backups prevent permanent data loss and act as a fallback plan if an error occurs while you're modifying or updating your website. Make sure you can restore your site.
Turn off caching. Caching plugins may not recognize if a WordPress installation is taking place, which can impede the process. Clear your WordPress cache and turn off caching plugins first.
Deactivate other plugins. Some WordPress updates aren't compatible with certain plugins. This can result in an inaccessible website. Deactivate any add-ons and extensions to install the update.
Upgrade PHP version. If you find that your current PHP version is not compatible with the update, make sure to update PHP version of your website.
How to Update WordPress
If this is your first time upgrading WordPress core, don't worry. We'll show you how to update a WordPress site safely .
In This Article We Update WordPress via the WP Admin Dashboard.
This is one of the easiest ways to update your site to the latest WordPress version. This manual update process is only a click away, and the installation process will only take a few minutes.
All you have to do is log in to your WordPress admin dashboard. Then, check if there is a new WordPress release at the top page of the WordPress admin dashboard.
Click Please update now to initiate the website update. The Updates page will open, where you'll have to press the Update Now button again.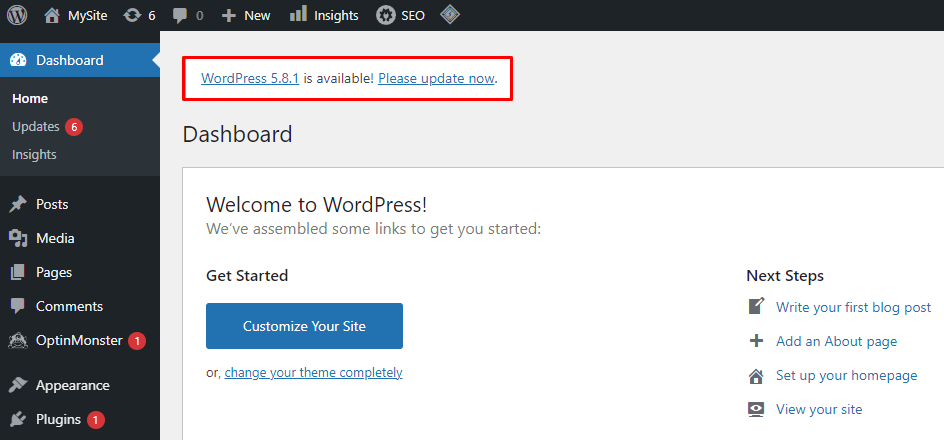 For minor updates, the success message along with the plugin and theme update options will appear.
However, you will see a welcome screen with a detailed summary of what has been upgraded for major releases.

Now you can update all of your themes and plugins to make sure they are compatible with the latest version of WordPress.
Pro Tip…
You can also download the latest WordPress version of the update from hPanel's WordPress section.